This site must need more content if you're reading the biography on the About page. Don't worry, more writing is always in the works.
Obligatory Third Person Biography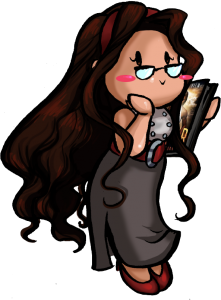 As a writer, Karen Diem is a traditionalist. Her plans for adulthood centered on writing books from a cabin in the woods, with multiple cats as company and as endless sources of amusing anecdotes. She began by telling stories and handwriting scenes as a child. While she later graduated to an old manual (no, seriously!) typewriter, she had to return to her roots when the typewriter revolted after a particularly awful batch of fan fiction. She still considers the computer keyboard to be one of technology's greatest gifts.
As she grew older, she took the writer-required variety of odd jobs before finally settling in as a technical writer. In that profession, Karen wrote a number of books and online Help systems for her employers, as well as an assortment of other documents. Somewhere along the line, the Society for Technical Communication threw a couple awards at her. After too many years, Karen disappeared from her technical writing job with a dramatic flourish of glitter and falling chocolates… or a polite resignation letter to the good people who paid her.
Without an outlet for her hyperactive imagination, she started writing anything on everything. Everything. Somewhere, there's a receipt with a haiku about dog cookies on it. Gathering what little remained of her wits, she turned to fiction. During the last few years of her technical writing career, she had thrown together most of a novel. She abandoned it, although it may someday be completed after some major revision, perhaps as a steampunk trilogy… Did this biography mention she could be distracted by shiny ideas?
However, the idea of writing fiction stuck, and she began the Arca books, a series blending superheroes, urban fantasy, and a clueless heroine to make a deliciously adventurous smoothie. Karen published the first book in the Arca series in May 2016, with successive books each year thereafter, with short stories in between the novels. She is hard at work on the next installment; check out the Books page to see what she's released so far.
What happened to the cabin in the woods with the feline Muses? She now lives in a more accessible area, complete with a family that swears she belongs with them. No cats reside there at this time, but some large dogs probably need out again now. No, really, NOW.
Affiliate Status
Karen Diem is a participant in the Amazon Services LLC Associates Program, an affiliate advertising program designed to provide a means for sites to earn advertising fees by advertising and linking to amazon.com. In other words, if you use the Amazon links on my site to shop, I might get one or two cents in a year.
Past and Upcoming Appearances
Let's just say Karen needs to get out more. However, for your viewing pleasure, here's a few interviews and/or virtual convention panels she's participated in. You'll recognize her in the YouTube videos. She's the disembodied voice telling the truly awful jokes.
Interviews
Panels
Readings