Check out the list of released books and short stories available now or coming soon! Most books are or will be available from major book retailers. If anything has limited distribution, the summary will mention it. If you just want to see books listed in chronological order, without the descriptions, see the chronology page.
NOTES:
I am an Amazon affiliate so if you buy anything from them using the links below, I might receive a commission someday.
For items that have been released only to newsletter subscribers, links are provided within the newsletter periodically throughout the year.
Released Books and Stories
Super
Adrenaline junkie and almost-respectable accountant Zita Garcia wouldn't know a superhero from some dude in his pajamas. As a result, the second-to-last thing she expected was to wake from a spontaneous coma, quarantined, and with super powers she has to hide from everyone, including her family. Now Zita must master her new abilities while dodging kidnappers, evading government inquiries, and finding her missing brother.
The only thing weirder would have been if the blind date had gone well.
Super is the first and pilot episode in the Arca superhero urban fantasy series, so includes both the "origin story" of her powers and her first adventure(s) using them. It also contains immoderate language, lame sexual innuendo, and comic book violence. Available in both paperback and ebook formats.

Washout
Sneaking out of quarantine, Zita and Andy try to unwind and practice their new powers in an isolated corner of Arizona. However, neither Mother Nature nor their fellow man is going to go along with their plans for a quick, uneventful trip.
This is an approximately 4,000 word short story set between Super chapters 10 and 11, and is only available to newsletter subscribers.
Octopus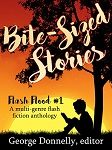 All Zita wanted was dinner, but what she got was trouble. 
Octopus is a "flash fiction" (extremely short ~1000 words) story, and occurs between the events of Super and Human. No hentai. It includes comic book violence, justifiable swearing, and a grumbling stomach.
This story is part of Bite-Sized Stories: A Multi-Genre Flash Fiction Anthology (Flash Flood #1), available for free. While weighted heavily toward sci fi, fantasy, and horror, a couple of other genres are also available in this volume.
Get  a free copy on: Amazon      iBooks     Kobo     Barnes & Noble     Google Play       Smashwords
Human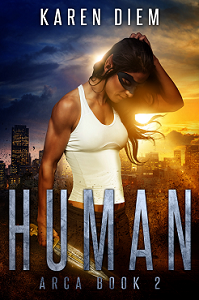 Death? Acceptable risk. Taxes? No problem. Ancient magical cutlery of mass destruction? Bad, very bad.
Following a brief foray into the world of superpowered vigilantism, extreme sports enthusiast and halfhearted tax preparer, Zita Garcia, wants her old life, her shiny new abilities, and none of the consequences. She's even willing to hide her powers since the alternative means endangering her family and living life as a literal lab rat.
Unfortunately, villains are searching for the pieces of a decrepit magic dagger, hurting innocents and fueling nasty anti-super protests. Her close friends, who helped before, are barely speaking to her, and one of them stands in the path of the violent hunt for the knife.
Zita better dig out her mask—fast.
Human is the second in the Arca superhero urban fantasy series and contains immoderate language, lame sexual innuendo, and comic book violence. While Human can be read as a standalone, it includes minor spoilers for the first book in the series. Available in both  ebook and paperback formats.
Tourists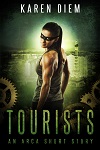 When possible extraterrestrials invade the Las Vegas Strip, it will take superheroes to stop them. Even if those superheroes are neophytes.
This is an approximately 10,500 word short story set after Human, and is only available to newsletter subscribers.
Power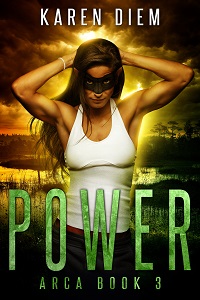 After successfully rescuing her brother from a serial killer and stopping a plot to use a magic butter knife to massacre thousands, Zita Garcia is ready for a return to her regular life: illegally climbing skyscrapers, hiding her superpowers, and grudgingly earning a paycheck to cover all those bills piling up.
Unfortunately, her least favorite supervillains are rampaging around in a bloody crime spree, outmaneuvering and outgunning the authorities. Enlisting her friends to help, even the one sulking in his dad's basement, she's got to stop the bad guys and their latest evil plan before anyone else dies. Even if Zita isn't sure what they're doing, other than it involves Brazil.
And maybe dinosaurs.
Power is the third in the Arca superhero urban fantasy series and contains immoderate language, lame sexual innuendo, and comic book violence.
Pie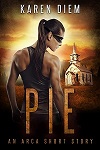 While on a multi-day road trip, Zita has to deal with a cranky brother and a rampaging pink monster, armed only with her wits and some pie. Or at least the pie.
This short story is set after Power and is only available to newsletter subscribers.
Roses in December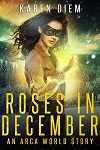 When her aunt with dementia is taken on a disastrous day trip, research librarian Wyn will have to step out of the stacks and get down and dirty to save her.
Even if  it means hiking.
This Arca World short story occurs after Pie and is only available to newsletter subscribers.
Monster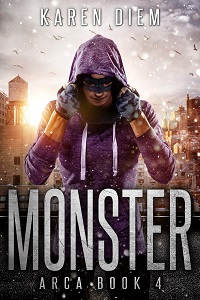 Tax season. It's all forms and games until someone loses a murderer.
Authorities have abandoned the search for a sadistic serial killer with a grudge against Zita Garcia's family. Never one to sit still, the sometime superhero and reluctant tax preparer will do whatever it takes to find him.
With her loved ones at stake, she'll call in her best friends and questionable new allies to help. If finding her quarry means Zita has to fight literal monsters, wrangle glitter-obsessed vampires, or go to a nightclub, she'll do it. Even if the undead and line dances make her skin crawl. She needs to get her mask on and solve this fast—before things go from bad to hearse.
A shovel to get through the three feet of snow wouldn't hurt either.
Monster is the fourth book in the Arca superhero urban fantasy series and includes immoderate language and comic book violence.
Quarry
Some people dig up trouble everywhere they go, even when they're literally in a hole in the ground.
Zita Garcia's one of them. The part-time superhero has to step up–or climb down–to save the day yet again.
This short story occurs a week or two after Monster and is only available to newsletter subscribers.
Concrete
Never mess with a hungry woman's snacks. Everything would've been fine, if the robbers had just left the snacks alone.
Sometimes, a woman has to take action, even if she's pretending not to be a superpowered vigilante.
This short story occurs a few days preceding Toga and is only available to newsletter subscribers.
Toga
Go home, myths , you're drunk.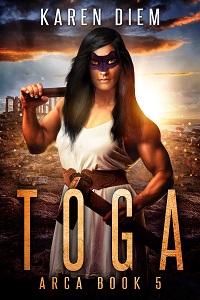 After a magical accident, part-time superhero Zita Garcia and her two closest friends wake up stranded in an ancient Greece that could only have existed if all the myths were real and somewhat inebriated.
Unfortunately, they can only leave with help from the locals, not all of whom are friendly. The dryads are downright deadly, and even the normally chatty centaurs aren't talking. To convince them to assist, Zita and her friends will have to go questing, just like in all the classic fantasy novels. The ones Zita never bothered to read.
If they win, they'll get the help they need.
If they don't, they better get used to togas.
Toga is the fifth in the Arca superhero urban fantasy series and includes contains deliberate historical inaccuracies, immoderate language, lame sexual innuendo, and comic book violence.
Breaking the Ice
Andy's been living a secret life as a superpowered vigilante for over a year now. The first day at a new job should be a piece of cake in comparison.
Shouldn't it?
This Arca World short story occurs after Tough Love and precedes Party. It is only available to newsletter subscribers.
Tough Love

Tokio might be doomed, but is Andy's secret relationship?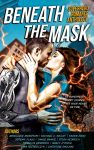 This Arca World short story occurs shortly after Toga.
It is part of Beneath the Mask: A Superhero Romance Anthology, available in Kindle Unlimited or for $4.99 on Amazon. You can also pick it up in paperback for $14.99. This anthology collects superhero ROMANCE short stories by a number of authors, with a range of stories from sweet to outright erotica, and includes a couple of LGBTQ stories. Tough Love can be found in the "sweet" section.
Buy or borrow it: Amazon
Party

As it turns out, being a masked, superpowered vigilante isn't entirely legal. Who knew?
When a critically ill teenager with powers disappears, part-time superhero and full-time trouble magnet Zita Garcia is on the case. Unfortunately, the girl isn't the only person to have disappeared, and the culprit isn't a mystery. It's a conspiracy.
A shadowy government agency has escalated from irritating robocalls to the obvious next steps, kidnapping and murder. If an intolerant new party can use rising anti-metahuman sentiment to win an upcoming election, their actions might not even be a crime. All Zita and her friends have to do is save the missing and avoid the bad publicity of doing something stupid that would tip the delicate political situation the wrong way…
They're doomed.
Party is the sixth in the Arca superhero urban fantasy series and contains lame sexual innuendo, immoderate language, and comic book violence.
Shakedown Cruise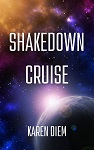 Freighter captain Tevi would give her left hook prosthetic for things to go right for once.
Being stranded in a damaged ship in pirate territory isn't the worst thing that's ever happened to her, but it's not what Tevi wanted when she sank her life savings into a used spaceship. The passengers are shifty, the pirates are threatening, and an unknown saboteur keeps breaking things, including the caffeine dispenser. That's not the cushy retirement job she'd hoped for.
With only herself to rely on, Tevi needs to outwit the pirates, solve the mystery of the saboteur, and get her ship back on course before its first flight becomes her last.
This science fiction mystery is a novella and only available to newsletter subscribers.
Upcoming Releases
Sharp (Summer 2022)
Will Zita get the point?
Sharp will be the seventh novel in the Arca series.