Toga! Toga! Toga!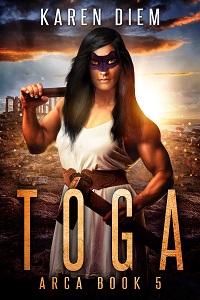 As of May 5, 2020, Toga is loose and running free, throwing laurel wreaths and available for purchase at every major retailer. Don't myth this one! The ebook is $3.99 USD or the equivalent, and most major ebook retailers should be more than happy to sell it to you.
Paperback versions will follow in a few weeks, but the 6×9″ books will be bursting with historical inaccuracies, lame jokes, and all the Arca you expect and then some. I'll comment below when that happens. In the meantime, you can get a quick glimpse of the first chapter here.
And yes, this notice is late. It's one of many things running sideways right now. Hope your Cinco de Mayo was a happy one!
For Your Free Viewing Pleasure
Bored? Stuck at home obsessing over that thing you meant to do that didn't turn out quite right or perhaps never got started?
Let me help you procrastinate.
I've started attending and serving on panels at (virtual) cons. It's great. I get to show off my invisibility superpower and be that mysterious voice that comes in from offscreen with the awesome jokes and everyone else gets to practice making faces at said comments.
Anyway, on April 28, 2020, I was on the Superheroes panel of QuaranCon 2020. We talked about superheroes we've known and loved (from afar, well outside of restraining order boundaries, I swear!), as well as small bits here and there about our own writing. The other panels at the convention were also entertaining; I particularly enjoyed the one on fight scenes.
This week, I'll be attending the Superhero-Fiction Con and speaking on TWO panels, despite the con organizers having been with me on the QuaranCon 2020 panel. That con will have one panel every weekday from May 18 to May 22 at 6PM EST. I'll be speaking on the Tuesday (May 19) panel on creating the powers behind the heroes, and on the Friday (May 22) panel on superhero origins.
After that, I've got no more virtual conventions planned for the moment. That's subject to change if and when I get asked to do a sufficiently interesting one again. If they'd like to PAY me, that'd be even better. Cash dollars, Paypal, or homemade chocolate chip cookies only.