On December 2, 2016, I released the new Arca short story, Tourists. It's approximately 10,500 words long, and, as usual, includes immoderate language and comic book violence. The events within occur after Human (scheduled for release May 2017), but do not provide major spoilers.
Description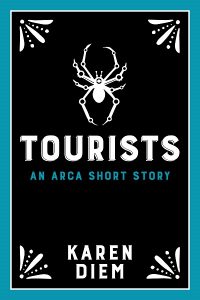 Las Vegas welcomes and flamboyantly entertains millions of tourists annually. It's famous for it. However, the latest visitors may be more than even Sin City can handle.
To avoid endangering others or revealing their real identities, Zita Garcia and her friends, Andy and Wyn, planned to practice their respective superpowers in an abandoned section of the desert. Visit Las Vegas, a crowded city filled with people with cameras? No way, no matter what Zita's heard about the buffets.
But when possible aliens invade the infamous Las Vegas Strip, what can Zita and her friends do but rescue the city (and all that food)?
No Elvis impersonators were harmed in the writing of this story.
Availability
This free short story is only available to newsletter subscribers, both new and existing. December 2016 subscribers also receive the other newsletter-exclusive short story, Washout.