Monster is on the loose! The fourth book in the Arca superhero urban fantasy series released today, May 5, 2019. What happens in this one? Here's a quick description: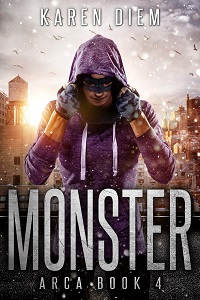 When the authorities abandon the search for a serial killer targeting Zita Garcia's family, the sometime superhero will do whatever it takes to find him. If finding him means fighting literal monsters, wrangling glitter-obsessed vampires, or going to nightclubs, she's in, even if the undead and line dances make her skin crawl. She needs to solve this fast—before things go from bad to hearse.
Here's where you can find Monster:
Paperback versions will follow in a few weeks, but I can tell you that the 6×9″ books will have 322 pages filled with adventure, lame jokes, and all the Arca you expect. I'll comment below when that happens.
To celebrate the release and readers who've stuck around for the past three books, I'm releasing the ebook at $2.99. After a week or so, the price will go up to $3.99 USD (or equivalent). I have no current plans to put it on sale again this year, though that decision is subject to change.
Need more info? Check out the full description or the first chapter!
AND… Super will be on sale for 99 cents USD (or equivalent) in all stores until May 15 for readers who like to start from the origin story and work their way up to the latest adventure. See the Books page for the store links.
NOTE: I am an Amazon affiliate, which means if you purchase an item at Amazon following a link on one of my pages, I may someday receive a few pennies from them.