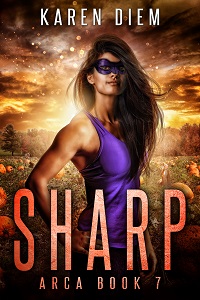 … and by that, I mean the seventh book in the Arca superhero urban fantasy series, Sharp! It has all the things you'd hope to find in an account of a Halloween visit to mom's cozy small town. Pumpkins. Apple cider donuts. Murder. Fiberglass aliens. Theme supervillains. Guilt. Mystery. Car crashes. Random monsters. Possibly explosive pumpkins. You know, the usual.
Sharp releases October 26, 2022. Grab a copy now for $2.99 USD or equivalent! The price will go up to $3.99 USD in a few weeks. Paperbacks will hopefully be available in time for Christmas. Buy it here.
If you're still not certain if it's for you, read the all the other books first. If you've already done that and are afraid that it just won't live up to the cheesy innuendo, bad decisions, and exciting action adventure of the rest of the series, check out Chapter One for a taste of the nutty goodness.