Here we go. A short update since I've been so bad about them regarding Party's release and the Convention of Heroes.
RSVP for the Party
Party will be released on August 6, 2021. It's at the editor now. Newsletter folks will get an advance copy of the first two chapters in July.
Convention of Heroes
So, the convention's already started so I'm late in posting this, but I'm participating in the Superhero-fiction.com 2021 Convention of Heroes. They've greatly expanded the convention from last year with a wider variety and greater number of events. They have their own Discord server where they're doing watching parties and live commentary. I hang out there off and on most days. To go there, it's https://discord.gg/vY7UbdqF.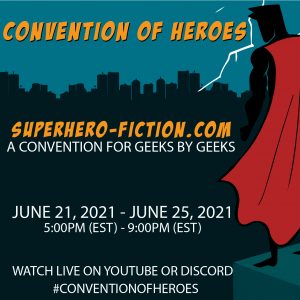 Apparently, they wanted to outdo the folks at QuaranCon, so they asked me to be on two panels, and moderate one of them. I "moderated" the panel on Crafting a Superhero and will be participating in the Captivating Worldbuilding one.
The Crafting panel surprisingly went very well with far fewer people tied to rockets or railroad tracks than I expected, despite one panelist being in an undisclosed offshore location with no electricity and three others in the middle of lightning storms. No one got superpowers in it either, sadly. I blame Amazon for refusing to deliver a volcanic lair with prebuilt death traps (I'm lazy) and the required sharks with lasers in time for the panel and for less than ten dollars. The Superhero-fiction.com folks were also crafty enough to fill the panel with just amazing authors who write in multiple superhero subgenres and had really fascinating stuff to say. They've probably stuffed all the other panels the same way.
For the first time, I'm doing a reading, as well. I read the first chapter of Party. So. Surprise! The first chapter will appear on this site probably in July.
Check out the con at: http://www.superhero-fiction.com/convention.
These links are available on my About page as well with previous con appearances.